Regular price
Sale price
$60.00 USD
Unit price
per
Sale
Sold out
At the heart of the Mediterranean, where the sun kisses the earth and the breeze carries the secrets of centuries, A Taste of Tradition is born. Gift the essence of Lebanon with products that encapsulate the warmth, history, and flavors of Lebanon. Let the spirit of the Mediterranean elevate your daily rituals and culinary adventures.
Extra Virgin Olive Oil (750ml)
Our Extra Virgin Olive Oil is a tribute to the sacred olive groves that have thrived for generations. Harvested at the peak of ripeness, each bottle holds the essence of pure, unadulterated olives. Savor the authenticity of Lebanon in every drop as you drizzle, dip, and infuse your culinary creations.
Perfect for sautéing, roasting, and dressing salads.
Rich in heart-healthy monounsaturated fats.
An essential ingredient for the Mediterranean diet.
Green Olives (660g):
Our Green Olives are a testament to the art of brining, transforming simple fruit into a complex culinary delight. Plucked with care and cured to perfection, they offer a symphony of textures and flavors that take your palate on a journey through the Mediterranean landscape.
Ideal for antipasto platters, tapenades, and martinis.
A delightful pairing for cheeses and charcuterie.
Packed with essential nutrients and antioxidants.
Black Olive Tapenade:
Our Black Olive Tapenade is a celebration of the bold, intense flavors of ripe black olives. Crafted with the utmost care and attention, this velvety, savory spread encapsulates the essence of Lebanon in each spoonful. Versatile and delectable, it elevates your culinary creations to new heights.
Perfect for spreading on fresh baguettes, crackers, or as a dip.
A gourmet pairing for cheeses and charcuterie boards.
Lebanese Za'tar (200g)
Handpicked herbs and spices, sun-dried in the warm Mediterranean breeze, combine to create a fragrant, earthy, and tangy blend. This is the very flavor that has been cherished by generations in Lebanese kitchens.
Perfect for sprinkling on flatbreads, vegetables, and grilled meats.
Create traditional Middle Eastern mana'eesh and dips with a twist.
Packed with antioxidants and vitamins, it's both delicious and nutritious.
A versatile spice blend that adds a dash of Lebanon to any dish.
Kfar Oak Honey
Collected from the nectar of the oak flowers that thrive in the lush Kfar region, this honey is a rare and exquisite find. Its robust flavor is a sweet tribute to the ancient traditions of Lebanese beekeeping.
Enjoy it as a spread on toast or drizzle it over yogurt and fruits.
A natural sweetener with a distinctive, earthy taste.
Packed with health benefits, including antioxidants and anti-inflammatory properties.
Olive Oil Soap:
Our Olive Oil Soap is a luxurious fusion of tradition and purity. Crafted with virgin olive oil and botanical extracts, it's a gift to your skin, leaving it soft, nourished, and revitalized. Breathe in the essence of Lebanon as you cleanse and rejuvenate with each use.
Nourishes and moisturizes your skin, leaving it supple and radiant.
Free from harsh chemicals, sulfates, and artificial fragrances.
Suitable for all skin types, even the most sensitive.
Invigorate your senses with the mild, natural aroma of olives.
Share
View full details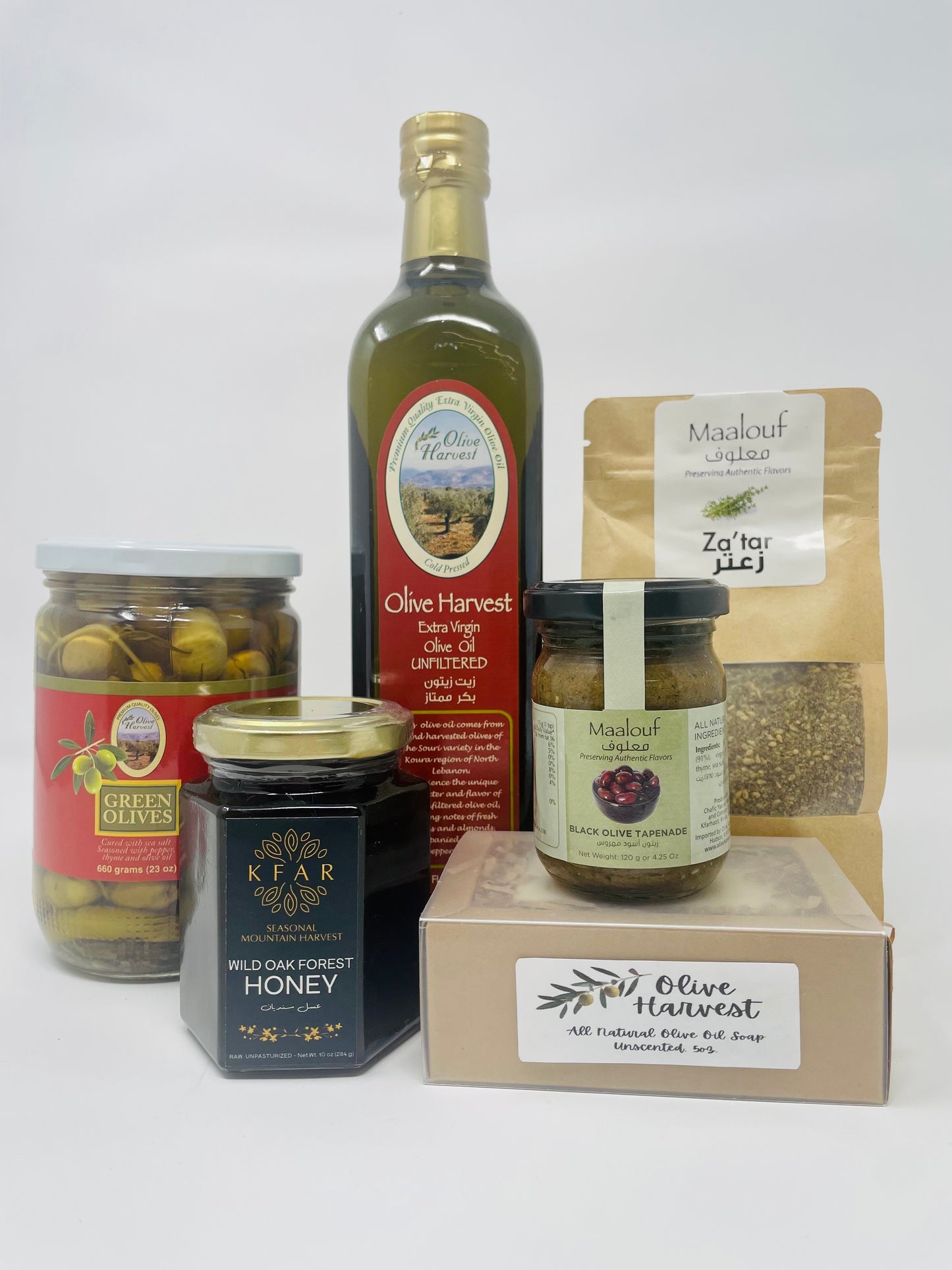 Free Delivery for orders above 150 USD
Benefit from our exclusive shipping fees, by increasing your cart size. The bigger your order, the less your shipping fee. Happy Shopping!