Regular price
Sale price
$60.00 USD
Unit price
per
Sale
Sold out
Includes Maalouf Extra Virgin Olive Oil (1.5L), Maalouf Rose Water (250ml), Maalouf Orange Blossom Water (250ml), Maalouf Za'tar (200g), Maalouf Quince Preserves, Maalouf Black Olive Tapenade
Maalouf Extra Virgin Olive Oil:
Souri olives, native to Lebanon, have been cultivated in the region for generations. These olives are prized for their distinct flavor profile, characterized by a delightful combination of fruity and slightly spicy notes. The Souri variety is celebrated for its resilience and adaptability to the Mediterranean climate, making it a symbol of Lebanon's agricultural heritage.
Maalouf Rose Water and Orange Blossom Water:
Unlock the subtle and enchanting essence of flowers with our pure and fragrant Rose Water and Orange Blossom Water. These delicate floral waters have been cherished for centuries for their versatility and natural charm.
            Add a few drops of Rose Water to desserts, beverages, or savory dishes for a unique and aromatic twist.
            Add Orange Blossom Water to your baking and cooking for a hint of citrusy, floral delight. It's perfect for pastries, beverages and Middle Eastern dishes.
Za'tar – what we already have written
Maalouf Quince Preserves:
The quince is a fruit that has been cherished for centuries due to its captivating fragrance and unique taste. Quince preserves are a versatile addition to your kitchen, offering a range of delightful uses.
            Spread it on toast or pancakes for a sweet start to your day.
            Serve it with your favorite cheeses to create a delightful appetizer or cheese platter.
            Use it as a filling for pastries, tarts or cookies for a burst of fruity sweetness.
Maalouf Black Olive Tapenade – please use what we already have written.
Share
View full details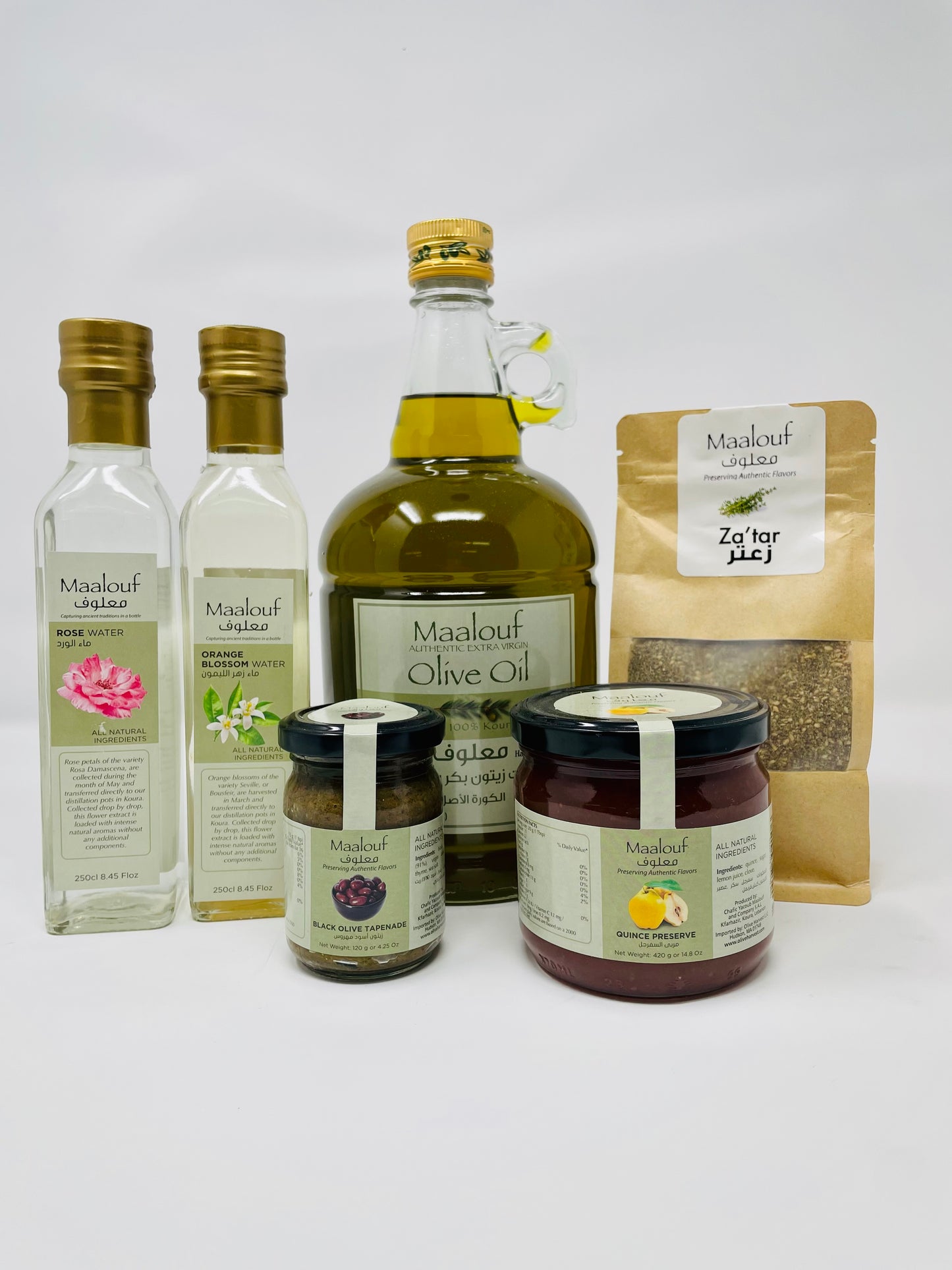 Free Delivery for orders above 150 USD
Benefit from our exclusive shipping fees, by increasing your cart size. The bigger your order, the less your shipping fee. Happy Shopping!