Welcome
The Yacoub Maalouf family has been growing and milling olives in Koura, Lebanon since 1959, producing some of the region's most superior, naturally made olive oils.
In the year 2000, Chafic Maalouf, owner and general manager, imported a small batch of extra virgin olive oil from his family's olive groves in Koura, North Lebanon. The unique olive oil was received with great excitement.
In Massachusetts, Chafic established Olive Harvest LLC to ensure a reliable connection between his family's oil production in Lebanon and the growing market in New England. As an agricultural Engineer, a crop Scientist, and a passionate olive oil maker, Chafic devoted his experience and his talents into bringing the best quality olive oil into the US market at very affordable prices. Currently, the Yacoub Maalouf family operates a privately owned olive press and more than 35 acres of olive groves in the fertile Koura region of North Lebanon, with the added capability of buying olives and olive oil from neighboring growers.
Archeological evidence reveals that the olive tree has been cultivated in the Koura region of North Lebanon for thousands of years. The Koura region is an elevated plateau situated 350 meters above sea level at the foot of the West Lebanon mountains that tower 3200 meters over the region below. This breath-taking location adjacent to the Mediterranean sea possesses lush soils of silt and clay that are naturally rich in potassium, calcium and minerals. This terroir, coupled with our naturally grown cultivars, make our olive crop superior.
Experience the exquisite flavors, the beautiful aroma and tantalizing color that make our olive oil an exceptional choice.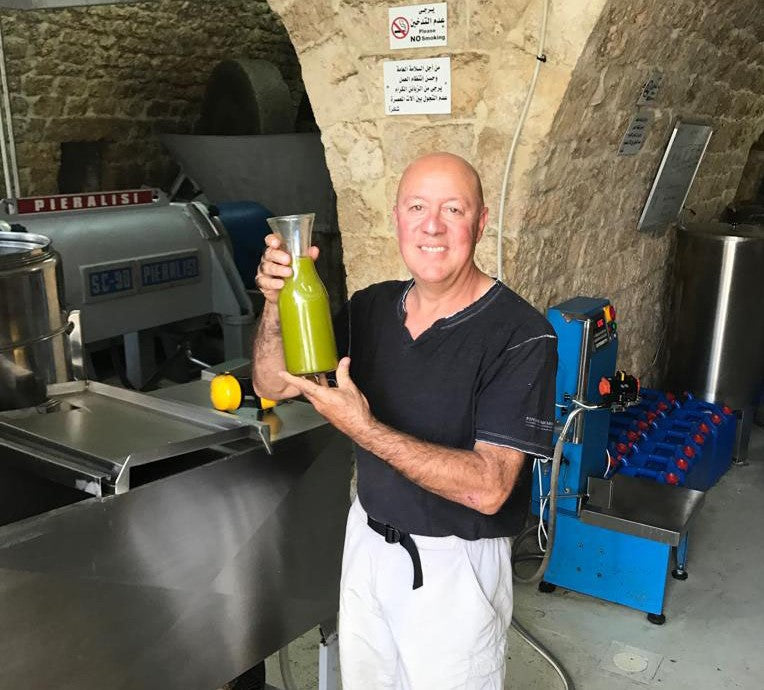 Mission Statement
We are committed to offering the highest quality Lebanese olive oil at a reasonable price, in an environment of happiness and respect to history, culture and humankind.
• • •
This work is dedicated to my father, Yacoub Maalouf (1926-1997).  Without his unconditional love and dedication, Olive Harvest would not be possible today.
-Chafic Maalouf
Our olives are traditionally grown using organic practices only:
Our soils are naturally rich in Potassium, Calcium and minerals, and there's no need to add those in the form of fertilizers.
We apply animal manure and composted plant material annually as the only source of Nitrogen.
Our olive groves are tilled 2 to 3 times per year for weed control, therefore no herbicides are needed.
Our trees are not irrigated and totally dependent on mother nature for water.
100% non- GMO operation.
Our milling process is simple and natural:
Cold pressing of our olives. Milling and extraction occurs at room temperature.
Stone grinding of olives is utilized.
Decanting and separation of the oil is a physical process that involves no heat or chemicals.
Our olive oil is unfiltered:
To preserve its integrity and character, our olive oil is intentionally unfiltered.
The presence of a slight olive residue in the bottom of our EVOO bottles is a clear attestation.
Fair trade and respect to history, culture, and humankind.
In line with our mission statement, which is offering the highest quality Lebanese olive oil at a reasonable price, in an environment of happiness and respect to history, culture and humankind, we pay more than the average prices for services and goods related to all aspects of our olive and oil production. One of our goals is to help those who run this industry so they can continue offering the goodness they offer and preserve this trade for many generations to come.